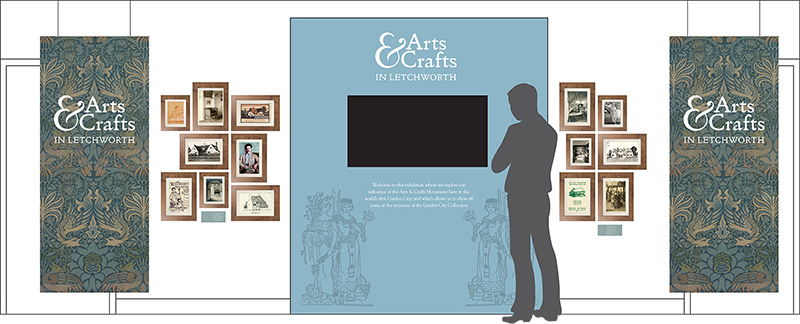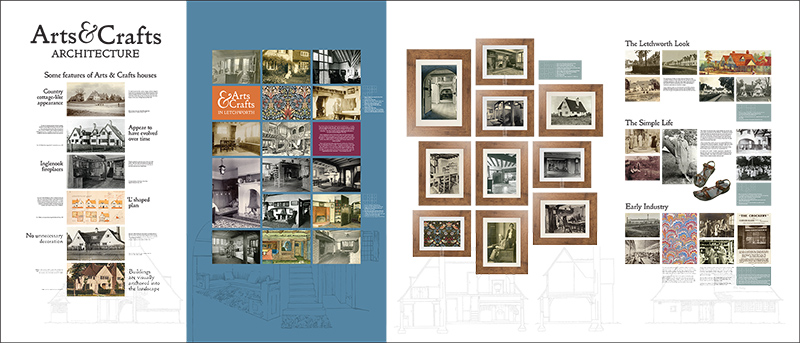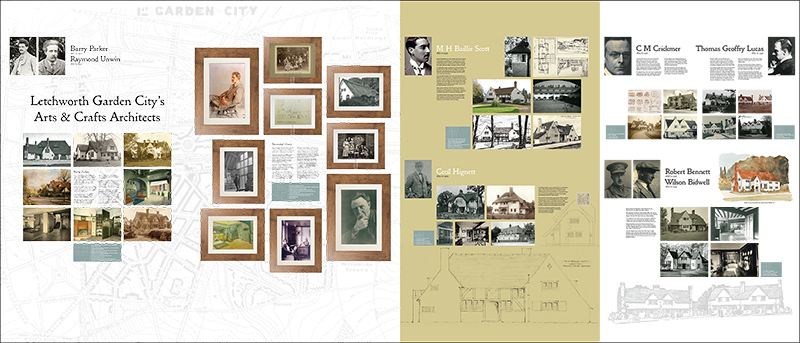 | EXHIBITION DESIGN | BOOK DESIGN |
Creating a heritage experience
The Letchworth Community Museum asked Abrahams Creative to provide the exhibition design for an event that they were organising. The Letchworth Heritage Foundation supports the Museum which was opened in 2015 to host temporary exhibitions provided by the community.
The exhibition, Arts & Crafts in Letchworth, ran between May and August 2016. The aim was to explain the influence of the Arts & Crafts movement in the world's first Garden City. On display was a selection of some of the many treasures and photographs of The Garden City Collection.
It was great to have a wealth of historic imagery and artifacts to choose from. They helped inspire me to create an engaging visitor experience. The Arts & Crafts movement is well known for celebrating craftsmanship and the natural beauty of materials. I therefore sought to reflect this by using wooden picture frames and textured canvas panels as part of the displays.
From the approval of my initial design concepts, I had just under 3 weeks to complete the exhibition design. As a result, I transformed the two rooms into an environment evocative of the Arts & Crafts era.
I have recently designed a book entitled 'Arts & Crafts in Letchworth to complement the exhibition design. The 100 page book uses a wealth of archive photography to explore this part of Letchworth Garden City's rich history.
CLIENT: Heritage Foundation Letchworth