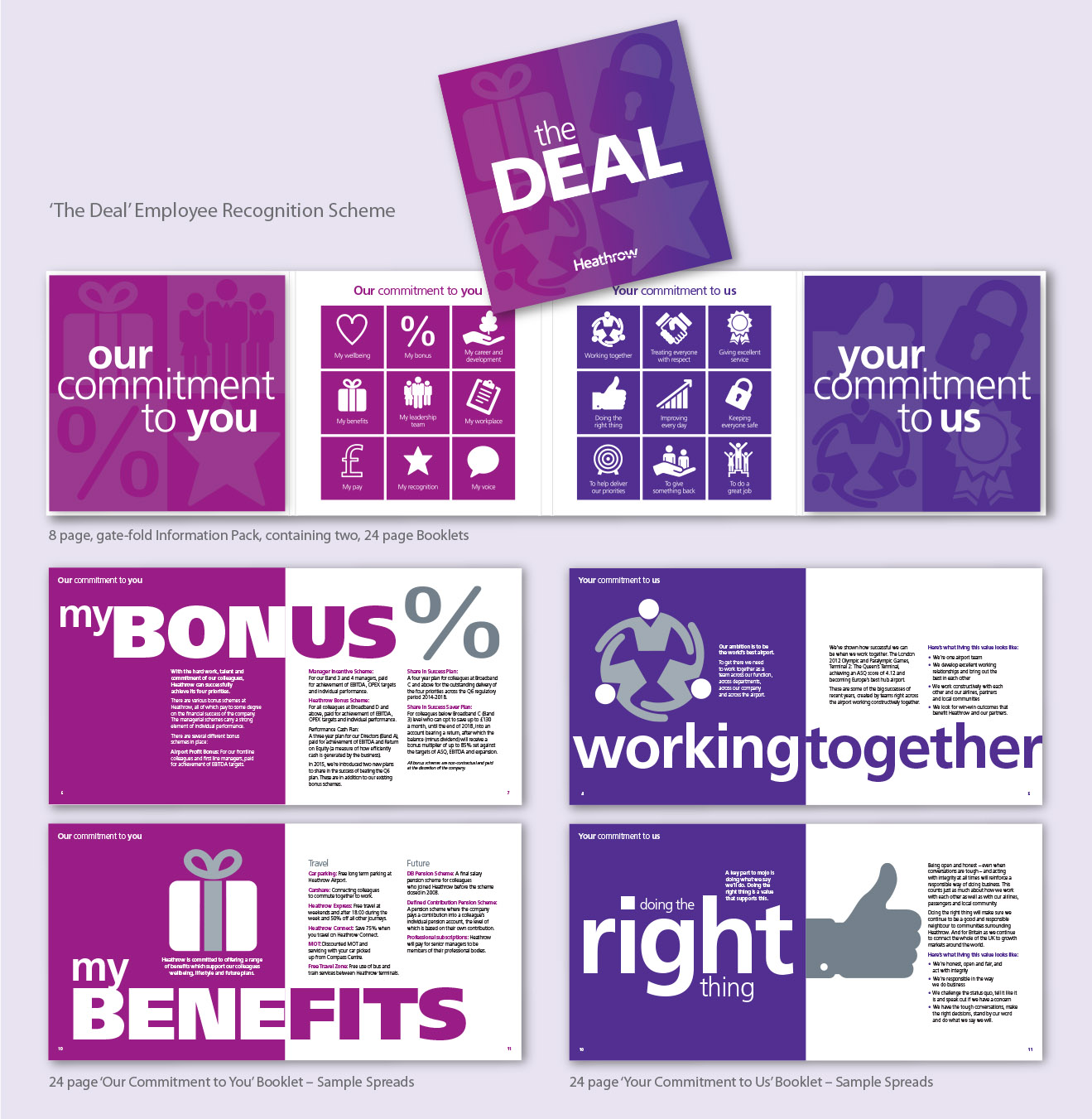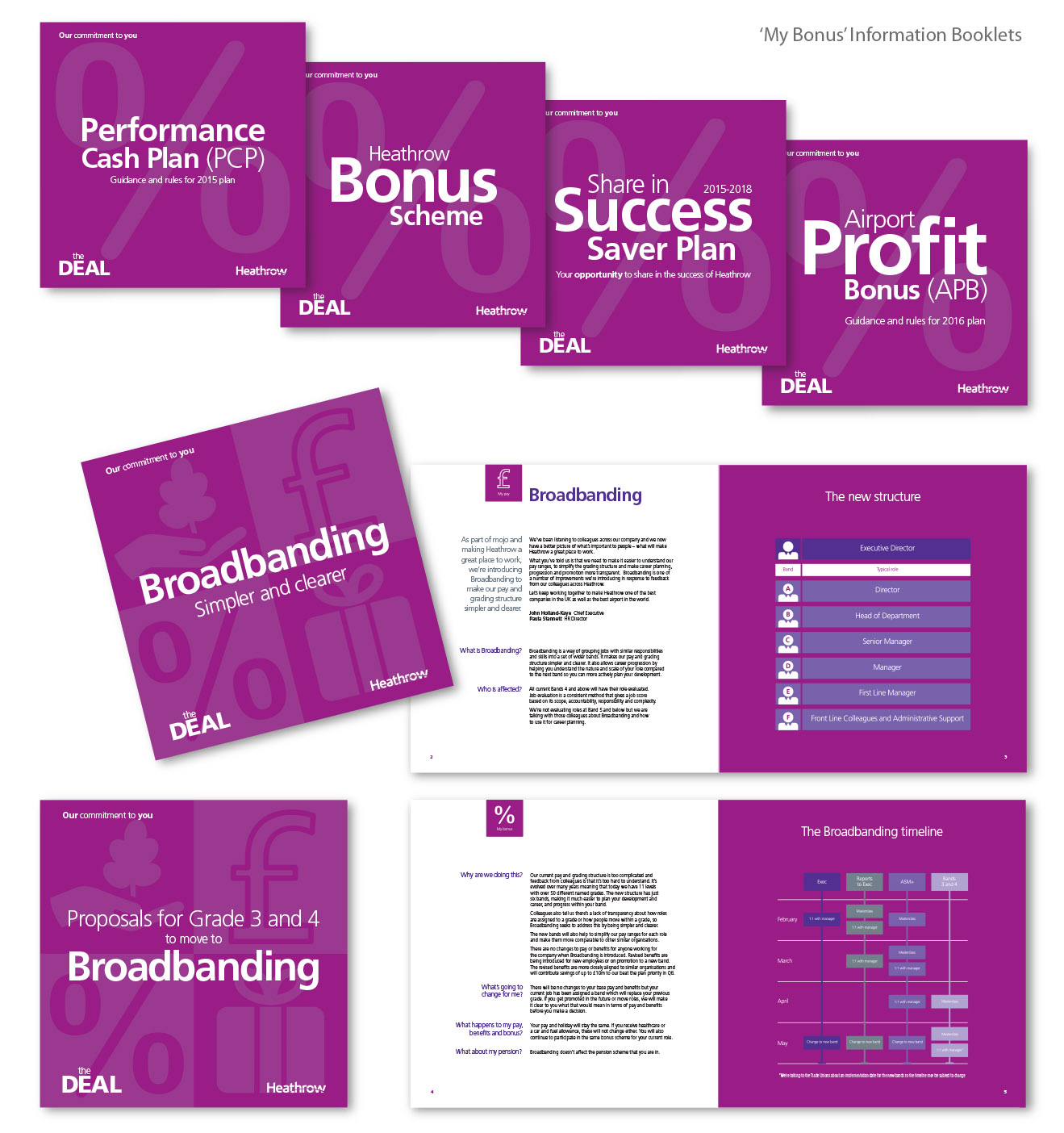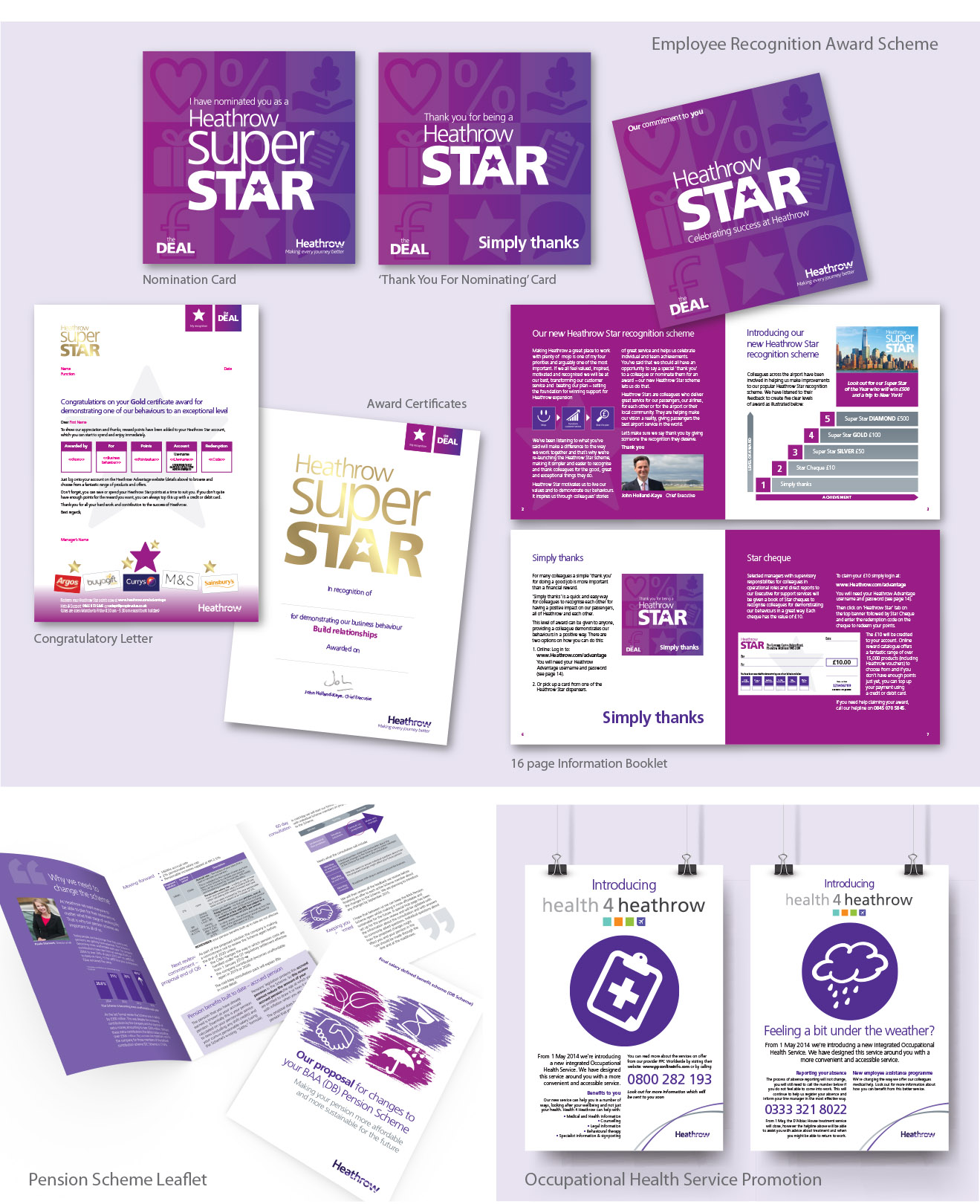 | ADVERTISEMENTS | BANNERS | BOOKLETS | CERTIFICATES | INFORMATION BOARDS | LEAFLETS | POSTERS |
Increasing employee productivity and engagement using internal comms
I have been creating a series of informative and creative internal comms for Heathrow Airport for over 8 years.
In 2010, Heathrow employee engagement was at an all-time low, and had been through significant organisational change. However, with the arrival of a their new CEO, John Holland-Kaye, the airport developed a new strategy. This identified the key areas that needed to be addressed by using the Best Companies model. They worked hard on their reward strategy "to make Heathrow a great place to work".
This new strategy is based on being competitive yet unique, flexible, valued, fair & trusted and celebrating success. As a result, 'The Deal' employee recognition scheme was launched. This sets out a commitment by Heathrow to strive to provide a great place to work. In return, employees are asked to commit to providing passengers with the best airport experience in the world.
The impact of this hard work? Employee engagement is increasing year on year and are amongst the highest in the sector. This has translated into stronger business and financial performance and has flowed through to improved passenger experience. The airport has won a number of awards and has seen lower employee turnover, less absenteeism and a reduction in tribunals.
The Deal recognition scheme
The roll-out of 'The Deal' to all employees began with a handy sized, 160mm square pack containing two information booklets. One, highlighting the 9 key areas that Heathrow would commit to focusing on and improving including Bonuses and Benefits. The other, explaining how employees can improve in 9 key areas such as 'Working Together' and 'Doing the Right Thing'.
To support this, a suite of 18 icons was developed to create instant recognition for each 'commitment'. Each new piece of internal comms falls under the umbrella of at least one of these 'commitments'. For example, a range of booklets about the various financial schemes available are shown opposite. These are easily identified as part of the 'My Bonus' commitment by the 'percentage' icon and burgundy colour scheme. However, a combination of the icons can also be used. As you can see on the Broadbanding booklets opposite, the subject of this comms piece is relevant to four of the 'commitments'.
Heathrow Star award scheme
The Heathrow Star award scheme was set up to recognise employees who demonstrate the company values in a positive way. Colleagues and managers are actively encouraged to nominate a fellow worker who they feel deserves recognition. Depending on their achievement, a winner receives either a simple 'Thank You' card, a financial reward or an invitation to a recognition lunch with the CEO. Silver and Gold winners receive a certificate and congratulatory letter explaining why they have received the award and the level of the reward.
Every staff room and recreational area throughout the airport has an information board that publicises the Heathrow Star scheme. These have dispensers that contain the Information Booklets and Nomination Cards alongside a post box for the completed nomination cards.
I have also designed a wide range of internal comms that cover topics such as pensions, health, careers and inclusivity. I have created identities, designed booklets, posters, adverts, pull-up banners and much more, creating awareness or providing useful information for a large and diverse workforce.
CLIENT: Heathrow Airport Limited
AGENCIES: No-Nonsense Design